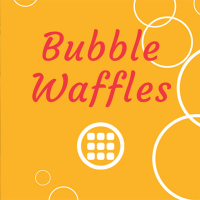 Have you met the bubble waffle?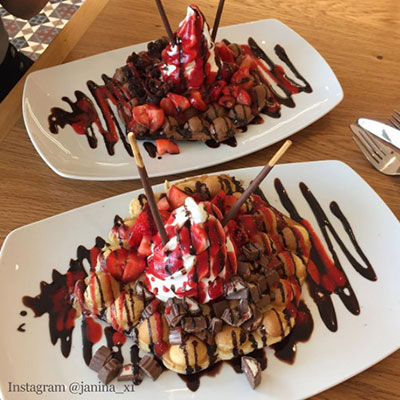 Sure, the waffle has been around for centuries, but there's always room for innovation. Last month on a trip to Toronto, I encountered a mall vendor who consistently has lines of people awaiting this treat. The delicious smell hit my nose before I even discovered what was drawing the crowd. What at first resembled oversized bubble wrap turned out to be one of the newest sensations to hit this continent—the bubble waffle.
Crispy on the outside with soft waffle "bubbles," this highly photogenic delicacy is often served by itself as a delicious snack, or topped with ice cream, chocolate, powdered sugar or sprinkles. Of course, I stood in line to try one for myself, and it was one of the best things I've ever eaten. Where had bubble waffles been all my life?
Humble Beginnings, Bright Future
Asia, actually. As it turns out, the bubble waffle – or gai daan jai in Cantonese – is believed to have started in Hong Kong in the 1950s. The story goes that when a grocery store found itself stuck with a shipment of cracked eggs, a quick-thinking owner decided that instead of throwing them away he would concoct a batter by mixing the eggs with sugar, milk, flour and butter. He poured the batter into two iron molds that resembled honeycombs and held the two molds together while the mixture baked over a fire. The result was a sheet of little balls, named gai daan jai, or "eggettes."
In recent years, bubble waffles (also known as Hong Kong cakes or egg waffles) have made their way to our neck of the woods, showing up in various Hong Kong-inspired restaurants and random food carts, like the one I encountered in Toronto.
Terence Lioe was born in China and grew up eating bubble waffles, so when he and his partner, Desiree Le, opened up Cauldron Ice Cream in Santa Ana, Calif., they made room on the menu for the bubble treat.
"I think it's pretty novel," Le told The Washington Post. "A lot of people have never tried anything like that before. We didn't really do any marketing for it; it marketed itself."
Judging by the lines in Toronto, it definitely seems like word of mouth is sufficient. And restaurants are getting creative with their recipes, adding savory ingredients like taro, red bean and black sesame, or serving them with green curry ice cream. The sweet varieties are of course the most popular: Customers at New York's Eggloo can choose from seasonal offerings like pumpkin spice or red velvet, or even add M&Ms and other fillings to their bubble waffle during the cooking process.
Leading Through Innovation
I'll be the first in line to tout the quality and superiority of our traditional waffles, and we even have the taste test results to back me up. But I also love new ideas, and when we saw the response to these bubble waffles – and how the trend is starting to grow in the U.S. – we wanted to put our Heartland spin on it.
I'm pleased to announce we have developed our own bubble waffle plates that fit our standard waffle baker—available to all of our customers. Just switch out the plates and use the same mix you're already using. It's that simple!
The bubble waffle makes for a delicious and unique menu item, and the options for dessert choices are practically endless. And with the affordability of our waffle mix (as compared with other breakfast options), you'll increase your opportunities for higher profit margins.
I have no doubt we'll soon be spotting these bubble waffle creations all across the country in the next few years. And no matter how long the line, you'll be sure to find me in it.