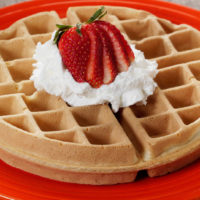 Treat Your Guests to a Better Breakfast
The superior hospitality in the hotel industry is due to hotel staff's strong sense of committment to guests. Hotel staff's responsibility is to bring the comforts of home to each guest's experience through efficiency and class. What makes a hotel exceptional is its ability to deliver a level of decadence to a guest's stay. Savvy hotel managers know they have the chance to offer so much more than a just a place to sleep. Successful hotels are the ones that bring a feeling of luxury, pampering their guests with valuable and appreciated perks.
Guests have come to expect high standards of cleanliness and attentive service, but it's the above-and-beyond hospitality that makes a real difference.
How to set your hotel apart?
A study by J.D. Power revealed that hotel guest satisfaction rates are starting to plateau. Guests are starting to expect those special perks that were seen as luxuries just 10 years ago—things like free Wi-Fi, complimentary breakfast, premium bed linens. As you know, delivering a superior customer experience to hotel guests is a challenge.
Rick Garlick, global travel and hospitality practice lead at J.D. Power shared some insight about how hotels excel in this competitive environment:
"When guests no longer see added value in the quality of amenities they receive, the only option to truly differentiate a brand is to develop a strong service culture that makes guests feel special and appreciated."
This means that the little things matter. After all, adding value and quality into every aspect of a guest's stay is a hotel's ongoing goal.
Why waffles?
A survey by Hotels.com found that free breakfast was the number one priority for 21 percent of travelers. And only 3 percent of participants said they'd go without the option of free breakfast in favor of a cheaper stay.
In other words, the way to your guests' hearts is through their stomachs. For those on the road, the luxury and convenience of having the most important meal of the day readily available is so valuable.
Many hotel chains offer continental breakfast, but the quality of the food varies widely. A mediocre offering of over-ripe fruit and some stale bagels doesn't cut it. Guests look for hotels that offer a variety of well-balanced and high-quality breakfast items. They want to feel pampered. They want to treat themselves to something they wouldn't normally have at their morning meal.
What better way to treat your guests than with a waffle? This breakfast staple is crisp-on-the-outside, airy-on-the-inside, both filling and sweet. They can be fancied up with a variety of toppings or served with the classic butter-and-syrup combo. They're simple, requiring few ingredients and little maintenance, and yet they offer a feeling of decadence.