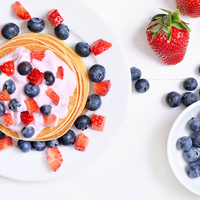 Join the Parade this Fourth of July
July 3, 2018 | Blog | by Heartland Waffles
Open up your restaurant doors this Fourth of July prepared to show off your festive decorations and patriotic menu offerings for all of your guests to admire. But don't fall victim to commonplace advertising. Be sure to stand out from your competition this holiday with smarter targeted marketing.
In today's Internet Age, every hotel, restaurant, and cafe should have an online presence if they expect to compete with top dogs in their local segment. Not only can a website inform customers of new specials, menu changes and driving directions, but it's also a great way to highlight social media promotions, contests and upcoming events (such as that big Fourth of July catering event you're hosting). Keeping an up-to-date website and social media profile on all platforms is the best way to keep customers involved in your promotional activities. Some examples of fun, attention-grabbing Fourth of July promotions include: costume contests, cornhole tournaments, patriotic coloring books for children, etc. According to "Fourth of July: Restaurant Promotions, Prep, and Menu Ideas," it is important to "make a dedicated post on July 4th," even if you cannot have any special promotions.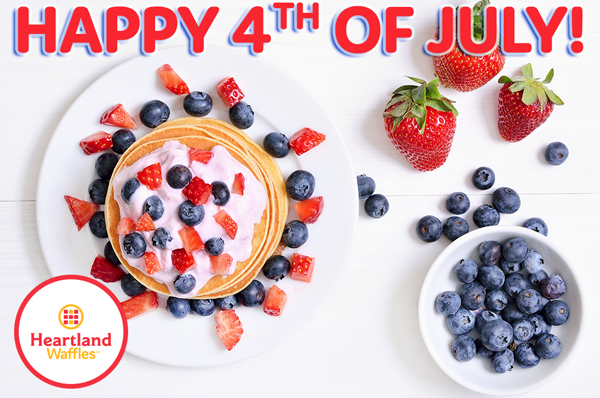 The author also offers ideas for decorations such as "patriotic floral arrangements," and carryout options for those families that want to dine in the comfort of their home this year. Don't forget to offer Heartland's Signature Waffles and Pancakes on your catering and carryout menu this Independence Day. Handheld dessert waffles for the passers-by and star-shaped pancakes for the children will surely put smiles on your customers' faces.
In the article "Simple Tricks To Promote Your Restaurant And Stand Out From The Crowd," the author showcases the importance of street signage. Not only does it identify where your establishment is located, but it can also hint at the type of food offerings available. Matching outside decor to your cuisine is one way to "make sure that you've got prominent signage that directs hungry customers to your door" in a classy and effective manner. Stand out from the competition by establishing a strong visibile presence from the street and online.
Make this Independence Day one to remember with Heartland's Signature Waffles and Pancakes, outdoor games, and festive flair. Contact us today at 1-866-572-0222 to get started.
Heartland Waffles is committed to helping those in the food industry treat their guests to superior-quality waffles every day. Share your favorite fall and winter cravings on our Facebook page or on Twitter @HeartlandWaffle.